---
Carolina Pascual Gracia
---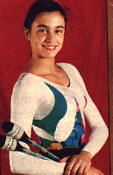 Carolina was born in Orihuela (Alicante) June 17th 1976. She was in ballet but when she was seven years old the teacher told Carolina's mother that she had excellent qualities for RSG. There wasn't a competition club in her town so she went to Club Escuela de Competición in Murcia and later to Club Atlético Montemar in Alicante. Her mother had to drive about an hour every day in order to take Carolina to the trainings. All this sacrifices were rewarded in 1990 when Emilia Boneva selected her for the National Individual Team. She quit in 1993, after the World Championships in Alicante.
She has been one of our most successful gymnasts and the first one to get an Olympic medal (silver in Barcelona '92). As a gymnast she stands out because of her very difficult and expressive routines.
Now she is a coach at Club IMD Orihuela.
.
Personality

FAVOURITE APPARATUS: All
FAVOURITE FOOD: Pizza and ice creams
MUSIC: Disco, Michael Jackson
BOOKS: The engaged princess
MOVIES: Lady Hawk
HOBBIES: Her home
OTHER SPORTS: Swimming, tennis
. .
Emilia Boneva's opinion about her

"Carolina's best quality is that she always works like if she were competing, but sometimes she relaxes and uses it to escape"
.
---

Carolina's Pictures


Interview with Carolina in 1996

.
---
| Main | News | Gymnasts | Groups | Articles | Interviews | Competitions | Records | Photos | Links | Thanks | Alba's Fanpage |
---