---
Ana Bautista Reyes
---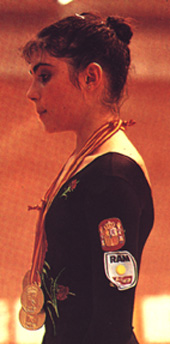 Ana was born June 13th 1972 in Santa Cruz de Tenerife (Canarias). She started in RG when she was 10 years old. What she liked was Artistic Gymnastics but in Santa Cruz de Tenerife she had not any possibility to practise it and her mother registered her in Rhythmics. Then, Nelva Estévez selected her for the competition group (E.M. Tenerife). In 1983 she went to her first individual Spanish Championships and in 1984 Margarita Tomova coached her together with with Nelva Estévez. In 1986 Emilia Boneva called her for the National Team.
She was the first Spanish gymnast to win a gold medal in an oficial championship (European Cup 1989)
She is the National coach of individuals since 1996 and studies psichology.

Personality

FAVOURITE APPARATUS: Ball
MUSIC: Gregory Abbot
HOBBIES: Listening to music


Emilia Boneva's opinion about her

"Ana is thecnich, self-confidence and perfectionist"
.
.

"Ana Bautista, queen at the European Cup"

.
---
| Main | News | Gymnasts | Groups | Articles | Interviews | Competitions | Records | Photos | Links | Thanks | Alba's Fanpage |
---