---
Rosabel Espinosa de la Casa
---
Rosabel was born May 18th 1976 in Alicante. She started to practise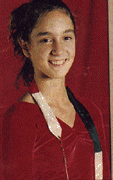 RSG at the club Escuela de Competición de Alicante with Francisca Meneus as her coach. She became a National junior gymnast in 1989 and joined the Senior National Team in 1991. She resigned in 1993 and now she's a coach.
Personality
HOBBIES: The beach
MUSIC: All
BOOKS: Peter Pan
MOVIES: The Bodyguard
FAVOURITE FOOD: Pizza, hamburgers
OTHER SPORTS: Swimming, tennis and basketball
Emilia Boneva's opinion about her
.
"Rosabel is the most regular. She works very well and hasn't up and downs."
---
| Main | News | Gymnasts | Groups | Articles | Interviews | Competitions | Records | Photos | Links | Thanks | Updates |©|
---