---
Carmen Acedo Jorge
---
.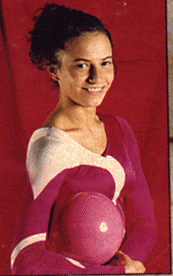 Carmen was born in Lérida January 5th 1975. She was a member of the club Patricia. In 1989 she was selected for the National Junior Group with Rosa Menor as her coach. In 1990 she was selected for the National Individual Team.
She was the first Spanish individual gymnast to get a medal in a World Championships (Brussels 1992) and to become World Champion (Alicante 1993).
Now she is a model and studies dramatic art.

Personality

FAVOURITE APPARATUS: Hoop and clubs
FAVOURITE FOOD: Pizza
MUSIC: Queen
BOOKS: The golden horse
MOVIES: Lady Hawk
OTHER SPORTS: Tennis, skating

Emilia Boneva's opinion about her

"Carmen usually gets angry with herself, because she wants to achieve everything, and the problem is that when she gets angry spoils the training"
.
---
| Main | News | Gymnasts | Groups | Articles | Interviews | Competitions | Records | Photos | Links | Thanks | Alba's Fanpage |
---