---
Ana Isabel Del Toro Berrio
---
..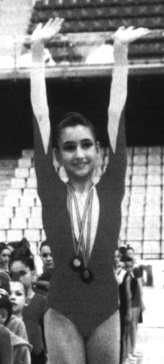 BIRTHDAY: 4th June 1982
BIRTHPLACE: Valencia
RESIDENCE: Madrid
CLUB: Atzar
COACH: Chela Burgos
IN THE NATIONAL GROUP: Since mid 1998

BEFORE JOINING THE GROUP WAS:
- 15th at the 1996 European Junior Championships with the Spanish Group.
- 4th at the 1997 Individual Nationals (Youngsters).
- 22nd at the Spanish Cup Final 1997.
.
---
| Main | News | Gymnasts | Groups | Articles | Interviews | Competitions | Records | Photos | Links | Thanks | Alba's Fanpage |
---