---
Spanish RSG Team's Polemic
---
MARÍA PARDO ROJO
"Mum, what do you want? to have a daughter or to have a medal?"
Resume of an article from "El Pas" one of the most important journals in Spain- 26th October 1996
María Pardo, at the age of 17, left the Rhythmic Gymnastics National Team two months before the Atlanta Olympic Games, where her teammates were able to attain the gold. After four months, she finally feels now that she's able to talk about her pains during her long association and struggle with the Spanish National Group, managed by Bulgarian, Emilia Boneva. And about the hunger she suffered, that caused her to even have dreams of food. About the surveillance she endured at the hands of coach Boneva, that went so far as to result in the end of her engagement to Jesus Carballo. During the months prior to her leaving the team, she carefully noted in her diary all the circumstances that she felt forced her to quit, leaving everything she had worked for behind. And ultimately leading up to a desperate phone call to her mother, asking: "Mum, what do you want? to have a daughter or to have a medal?"
.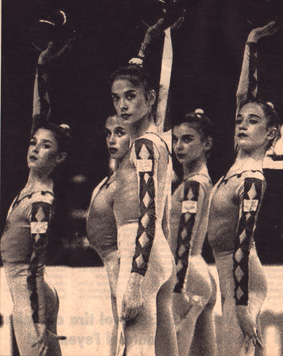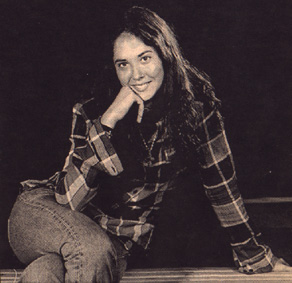 .
The 14th of January, 1996. "Emilia has been aware that I've been out with Jesus."
"Tonight, Emily called me and asked where I'd been. I told her that I'd been with all my teammates. She answered by telling me that I'd been lying. What she claimed was true. I hadn't been with my teammates, instead, I had gone to the cinema with Jesus. Emily clarified future by stating that she knew that I'd been having an affair with Jesus and that she had observed me in this."

The 20th of January. "Tonight, Emilia is angry again. We don't know what caused this. She's forced us to go on the scales in a surprise weight check. There's been a general reprimand given."
Each morning all the girls must weigh themselves. The results of the weigh in determined their destinies for that particular day. "I was the one who had the most problems, this was due to the fact that I was also the tallest. I'm 170 cm, and she had asked me not to surpass 43 kgs. If for example, I was 44 kgs at a weigh in, it would mean I only had the right to half of a dinner that night. If I was 44.100, I would have to go to bed without having eaten anything at all. The doctor had prepared a diet for us, but it was really Emilia who had the final say as to what we were or weren't able to eat. For breakfast: they gave us cereals with milk, cottage cheese with honey, and orange juice. For lunch: vegetables or some pasta and some grilled meat. For dinner: fruit and yogurt."

The 26th of February. "I've gained 400 grs. this weekend, and she has scolded me 'like hell.'"
Emilia Boneva weighed her gymnasts every morning, except Sundays, the only day without any training. "This morning she told me that I was irresponsible; she asked me where I had put my head. She punished me by letting me have only half of each meal for the day. I was becoming obsessed with food. Every night in bed I dreamed about food. When I would watch a movie, it was the food that appeared in it that would attract all my attention."
Training started at 9 a.m. Work would continue on until 2 p.m. without rest. Then we'd return from the dorms at 4 o'clock, and we'd work again till 9 p.m. "When we'd finally arrive back home, we couldn't even feel our legs. On many nights we wouldn't be able to fall asleep because of the extreme fatigue and aches we had"
At night, when María stayed with her roommates, Tania and Alba, they often could only find the will for talking about food. "We played by making recipes."

The 14th of March. "We're going to have our first tournament. We'll be going to Kalamata, Greece. On the 16th we competed with hoops, and were second. On the 17th we competed with balls and ribbons, and we won the tournament. Emilia was happy, but we didn't manage to leave Greece without receiving a big scolding. There wasn't a celebration, but we celebrated the victory ourselves by using the contents of our room's fridge."
Customarily, Boneva would pick up the fridges' keys, or would check them to verify that they hadn't been used. Gymnasts are experts at simulating the appearance that a bag of nuts hasn't been opened, or that a portion of butter is still intact. Unfortunately, however, on that night in Greece, none of those tricks of deceptions were used. "We were leaving at 6 a.m. so we thought that no one would check the fridges before our departure, and we decided to empty them. We ate everything! But the following morning, as we were about to go, a porter told the coach that we had eaten all the contents of the fridges, and that we hadn't paid for them. At that moment, we wished for only one thing, that death would take us. The scolding was horrible!"
Diets have caused physical problems for some gymnasts. Some of them, in spite of having vitamin supplements, have suffered from severe cases of facial blemishes. Some of María's teammates had even resorted to putting their own fingers down their throats if they had eaten too much. Water was even restricted severely. María was allowed to drink only one glass per day.

The 26th of April. "We're in Germany. I've failed with the hoop and Emilia's told me: "You aren't thinking about what you should!" I imagine she was referring to Jesús."
"My own Calvary has begun in Germany. I threw Tania a short hoop and it fell to the floor. Emilia told me it was because I could only think about Jesús. So I decided to tell her that we had broken off our relationship. I'd promised her before that if my relationship with Jesús started to interfere with my work, I would break it off. But I didn't want to. Our relationship was going very well; the only problem was the pressure Emilia was exerting because of it. It was all so exhausting to deal with. I knew I couldn't continue to live in this situation."

The 2nd of May. "I feel as if I have a mental blockaded. I can't throw the hoop! When I throw it, it's without control. I don't know what's happening to me. I'm afraid of making a fool of myself."
There were only two months left before the Olympic Games. The pressure to concentrate was greater and greater everyday. Diet and technical controls were also becoming more and more strict. María started to feel more desperation with each passing day. "There was only a short time before the Games. The stress we were enduring was too much to bear; it had to be discharged through some means. But through what and how? My problem was that I couldn't throw the hoop, and I was worried. I didn't know what to do, and nobody helped me. My teammate Alba was the only person who tried at all to aid me. She had overcome a similar situation in the past, but there had been help for her to overcame her ordeal."

The 8th of May. We are in Corbeil (France) for a Tournament. I'm continuing to fail with the hoop. I'm going to be an impediment to my teammates because I can't seem to do anything right. I've been thinking that I have to tell Emilia I won't compete. I'm going to make a fool of myself.

The 18th of May. I have phoned home four times. I've told my parents that I'm exhausted; I've asked them to come here to pick up me. My mother is very worried. I asked her the question: What do you want? to have a daughter or to have a medal?

María quit gymnastics. And the separation caused her to break up with Jesús.

PATRICIA ELORDUY, MARÍA ALMELA and CLAUDIA PÉREZ

.

"María has told the truth"

Resume of an article from El País-28th October 1996

.

Patricia Elorduy: She arrived at the National Training Center on February of 1994, and was there for seven months.
"The worst thing is when they humiliate you. You became obsessed with food. That's all you can think about. One night I was in my bedroom and hadn't noticed that I'd left some biscuits on the table, when Emilia appeared, she just looked at me and then slapped me. They don't respect you."
"Emilia wants to make the Spanish gymnasts into Russian gymnasts, and that's impossible!"

María Almela: She was at the Training Center for five months. She still cries when she recalls her time with the National Team.
"All that María Pardo told of is true. Reading her diary was like reading my own!"
"I can remember that in those five months I was there, I only ate one fillet."
"We didn't have any privacy either. We were four girls per room."

Claudia Pérez: They forced her to be 43 kgs, even with her 169 cm frame. She suffered anemia and many injuries.
"Once, my mother and my coach, Nelva Estévez, came to visit me at the hotel where we were concentrated before a competition, and Emilia told me that I wasn't allowed to see my mother."
"The control about the food was excessive. After the cook would leave, she would lock the door of the kitchen."
"And they didn't attend to me when I was injured."

************

SPANISH RSG GROUP

"The gymnasts and ex-gymnasts defend Emilia Boneva"

Resume of an article from "Gimnasia Independiente" Magazine, Issue number 3-October 1996

María Pardo wasn't able to tolerate seeing her teammates on the Olympic Podium, and she attacked Emilia Boneva. Three former gymnasts, who quit because they weren't able to tolerate the championship level training of the elite gymnasts, and who all like Maria, also joined with her in these accusations against coach Boneva. Some of them lied, and I have proof of that. And others simply didn't tell all of the truth.
After such harsh accusations, we wished to defend the work of a selector (coach Boneva), who along with María Fernández, took the Spanish Group to the pinnacle of success in world of gymnastics, the Olympic Gold.

Estela Giménez: "All of this is because of their envy."
Marta Baldó: "There are things that are true. Because you are isolated here, you don't see your parents for a month at a time. But it has its rewards, and you are here because you like gymnastics; nobody forces you to be here. She'd been here for two years and what happened? Perhaps those were different times? But she must recognize that she quit because she had a problem with an apparatus, and not with the way that they treated her."
Tania Lamarca: "Emilia has good and bad things about her, like all people. But if we were all as mistreated as María says, nobody would have returned to the team after attaining the maximum of success (the gold medal), yet all of us chose to do so."
Estíbaliz Martínez: "María had became angry because she wasn't able to win the medal."
Nuria Cabanillas: "Here, the work is hard and sacrifices need to be made, as it is with anything worthwhile in this life."
Lorena Guréndez: "My mother has a daughter and a medal because it's possible to have both things. My parents support me always, whether it's to quit, or to continue."

Carolina Pascual said: "Emilia has been a good selector and a mother to me. I was four years with her, and I had never felt that I was badly treated. She always took care of me if I was sick. Maybe she did hit Patricia, but herself (Patricia) told on Tele5 that she kissed her and apologized."

Rosabel Espinosa: "I had lots of fun, and I would do it all over again. Emilia treated me well in the three years that I was there."
.
Mónica Ferrández: "My opinion is that all of it is totally false. I was there for three years, and they were very beautiful years. Emilia has been like a mother for me."

TANIA LAMARCA CELADA

.

"A fat girl of 43 kg"

Quotes from La Revista, Magazine of El Mundo, one of the most important newspapers in Spain-January 1998

.

Tania Lamarca, Olympic Gold medallist, was dismissed from the Spanish Group of Rhythmic Gymnastics because she was too fat (159 cm 43 kg). Her coach, María Fernández, wanted her to be at least 41 kg, but her doctor said her that she was not able to lose more weight, without putting her health in danger.
.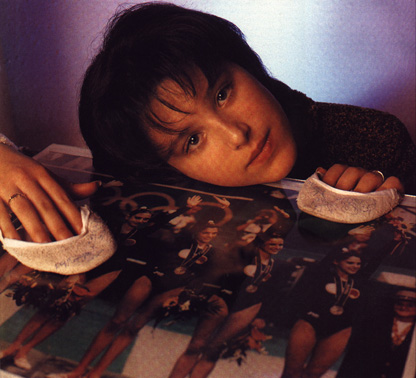 .

"Nobody is forced to be on the team, and all of us know what a huge sacrifice it is to be here. The hours of training are like that for any other sport. Diets are balanced and tested by the doctors and applied in accordance with the specific needs of the discipline. And I have never felt poorly treated."
"I had to quit because my body was just not able to continue."
"I want to start a new life, studying and coaching girls."
"I was a bit tired."
.
---
| Main | News | Gymnasts | Groups | Articles | Interviews | Competitions | Records | Photos | Links | Thanks | Alba's Fanpage |
---