---
Six golden girls, six
---
3rd August 1996- MARCA Sports Journal, by Javier Romano

.

Spain got yesterday the first title of rhythmic groups for the first time in the Games

.
Spanish gymnastics, always in unequal fight with the Western countries, had two opportunities for getting the Glory. Lost the first, that corresponded to Jesús Carballo at the bar final. Failing for two times would have been tragical and unjust. Its rhythmic group, the most precious jewel of the crown, didn't and proclaimed Olympic Champion.
The title of the music of their hoops routine "Hoping in America" was premonitory.
Marta Baldó, Estela Giménez, Nuria Cabanillas, Estíbaliz Martínez and Lorena Guréndez played the lead in the most important success in the history of Spanish gymnastics. They aren't multimillionaire professionals, just teenagers of between 15 and 17 years old, who train eight hours per day, live far away from their homes and have sacrificed one year of their studies for making real a dream.
They came with unsurpassable references, three consecutive second places at World Championships, but rhythmics is a world of hierarchies difficult to change and the most recent record appointed Bulgaria like the favourite.
In a final at where the judges didn't give neither steal nothing to nobody, the Spanish team worked on the title eagerly. It got the first place at the first rotation, with the five hoops routine that was made for charming not only the judges, the home crowd, too. Two minimum inaccuracies didn't alterate the score of 10 that it's composition deserved and deserved a total score of 19.483, only 0.017 more than Russia. Bulgaria, with some errors, was behind them. The half of the job was made.
The occasion was ideal because the second rotation corresponded to the 3 balls and two ribbons routines, with which one the Spanish got the two last World titles. Bulgaria increased the pressure with a routine of small risk, but well executed (19.450). The national group, that didn't know it's privileged situation, was worthy of the occasion and made the best of it's four performances. A stick, that touched the floor, subtracted very worthy thousandths (19.450) that finally were not necessary. Because nerves stiffened a Russian gymnast and lost the ball, that on it's rolls carried with it all her hopes.
Without knowing their triumph, the six gymnasts waited in the dressing room the end of the competition and the emotion made them cry on the podium while they were cheered with olés.
.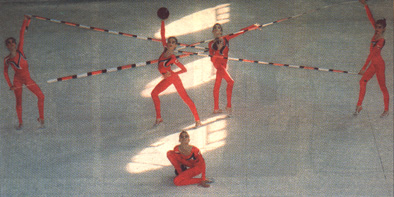 .
---
Articles
Spanish RSG
---