ALBA CARIDE-COSTAS' ROUTINES
---
Thanks to Henri Thibault for suggesting me the idea of making this section with descriptions of Alba's routines.
ALBA'S BALL ROUTINE from 1996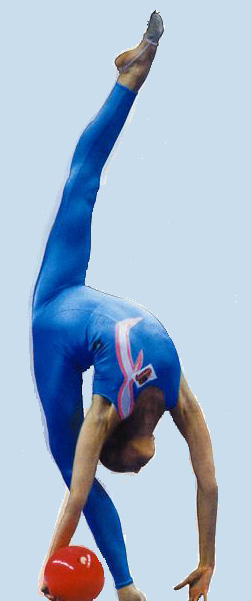 This is in my opinion one of her best routines, is not the most difficult but makes you feel the emotion from the start till the end. It has a charming and dramatic music that Alba expresses very well, as always, passionate and so elegant. The long balances and the difficult catches characterize the whole the routine. The ending is very touching, on a very flexible position by Alba.
With this routine, Alba won a silver medal at the ball final of the 1996 Spanish Champs.
It was her best performance at Atlanta Semi finals.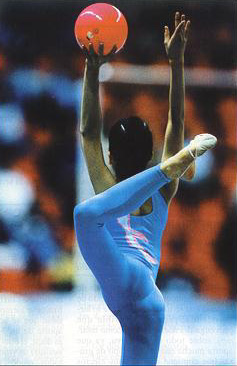 ALBA'S CLUBS ROUTINE from 1995

I specially like this routine because it's the first one that I saw from Alba. She uses the music "La Chica ye-yé" wich is a rock and roll very famous in Spain during the 70s. Alba really expresses very well this piece of music showing herself very happy during all the routine. The composition is not as difficult as the more recent ones but it is very dinamic and original, too. Alba executes it very cleanly, showing her excellent balances, pivots and apparatus technic. Her movements are very fast during all the routine, fixing perfectly with the music. She finishes the routine with a very nice position and a big smile.
With this routine, she got her best score (9,350) at the 1995 Worlds in Vienna and the bronze medal at the 1995 Spanish Chapionships in Alicante.
.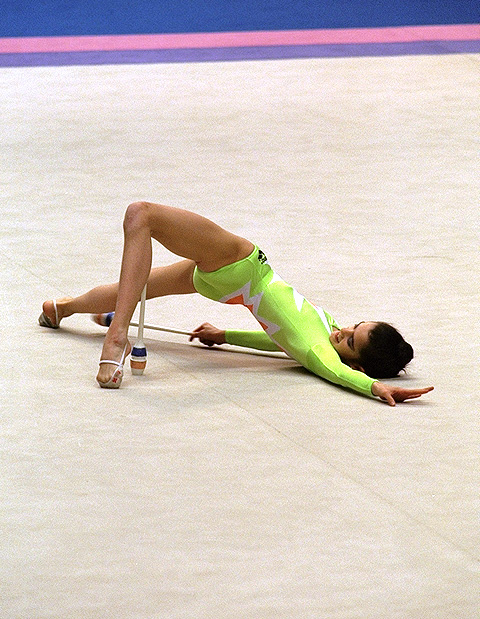 ---
Return to Alba Caride-Costas' Fanpage
---